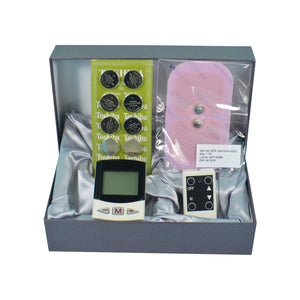 Designed specifically for the treatment of shoulder pain, neck pain, and arm pain.
Wireless and powerful device for home use.
Designed in the USA.
FDA approved Class II Medical Device for electrotherapy safety and efficacy.
Highly effective in helping patients with pain relief, muscle relaxation, and increasing blood circulation to enhance healing.
Has a specially designed paired adhesive electrode that provides strong stimulations to target and focus the treatment in a small area.
Effectiveness has been evaluated by neurologists, chiropractors, family physicians, and patients with great success.
Patients benefit from pain relief and reducing the need to take pain killer medications.
Patient manual has clear clinical treatment instructions including pictures for each step-by-step procedure.
Displays stimulation patterns real time on the easy-to-read LED screen.
Comes with a remote control.
Very simple and easy to use.
Note: This device also has accessories specifically designed for other treatments including hand neuropathy, carpal tunnel, non-neuropathic hand and foot pain, and foot reflexology. Consult your clinician for recommendations.
Product Includes
DT-600 Multifunctional Electrotherapy Device
2" x 4" Premium Quality Paired Adhesive Electrodes (4)
Remote Control
CR2032 Batteries (1 Pack of 10)
Patient Manual
Technical Specifications
Channels
1 channel
Power Source
CR2032 batteries (2 for device and 1 for remote control)
Waveform
Asymmetric biphasic square
Pulse Mode
8 preset modes
Pulse Width
260-310 uS (preset for each mode)
Pulse Intensity
0-20 mA
Pulse Frequency

   

2-100 Hz (preset for each mode)
Timer Control
15 minutes per treatment with auto shutoff
Dimensions
2" x 3" x 0.75"
Weight
0.1 lb (batteries excluded)
Limited Warranty
1 Year