Zopec Medical - Innovation for Health
"Zopec Medical is a leading manufacturer of small, lightweight and medical grade UPS batteries for biomedical equipment. Specifically for respiratory therapy, we provide transport and UPS backup solutions for High Flow Nasal Cannula (HFNC), Heated Humidifiers, High Frequency Oscillatory Ventilation (HFOV), Ventilators, Cooling Devices, Neonatal Isollets, PAP machines, home oxygen, and more. Our batteries are being used worldwide and customers include Hospitals, Air Medical Transport teams, Ambulance Transport teams and Homecare DME's. Our mission is to provide innovative, safe and effective medical products to improve patient care and save lives."
Medical UPS BATTERIES FOR HOSPITALS, AIR MEDICAL, AMBULANCE - FDA and FAA Compliant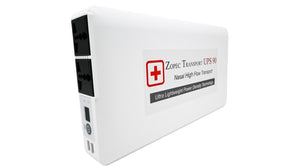 UPS 90 Pure - Medical Grade
Zopec Transport UPS batteries are the world's smallest and lightest for Nasal High Flow transport. With pure sine wave, the UPS 90 Pure is the first small transport battery for F&P MR850, Hamilton H900 and Medline Neptune heaters. UPS 90 transports F&P Opti-Flow for 70 minutes at 60 L/Min and 37C. Dimensions are 11.5" L x 6.5" W x 2.0" H and weight is 5.0 lbs. Compatible with F&P Airvo2, heaters, Tecotherm Neo, Aerogen, Airborne Isolette, Oscillators 3100A/B, Jet Vent, etc.
MORE INFORMATION
Battery for Heated Humidifiers and Stationary Oxygen Concentrators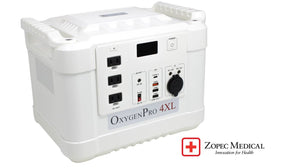 4XL Pure
The 4XL is designed for ambulances that need to run heated humidifiers (i.e. MR850, H900, Neptune) for nasal high flow during transport. It will run 6 hours at 37C and 60 L/Min.
More Information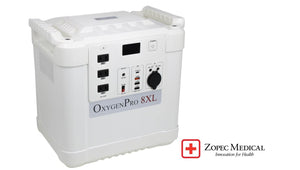 8XL Pure
The 8XL is designed to be a backup power for stationary oxygen concentrators. It will run 5 - 16 hours at 3 - 10 LPM continuous mode. Car charging and Solar charging option available.


More Information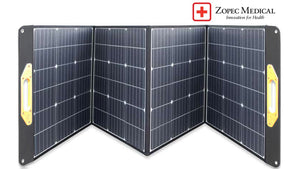 PHOTONS 200 Solar Charger
Portable solar panel charger for the 4XL and 8XL batteries. Ultra-fast charging with high efficiency cells (23% conversion) and increased absorbance surface area. The PHOTONS 200 has an output of 150 - 175 watts with a full sun. From 100% depletion, it charges 4XL or 8 XL in 12 - 16 hours.
More Information
Mobility BATTERIES FOR REHAB, LONG TERM CARE and Homes Respiratory Care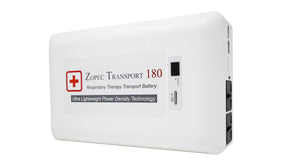 T180 Simulated - Medical Grade
T180 is a great mobility and backup battery for patients on ventilators in rehab or homecare settings. For Vyaire LTV 1150/2000, it runs 9 hours. For home vents like Trilogy, Astral and Vivo, it runs 24 hours. It comes with a car charger and solar charging is available for a separate purchase. Dimensions are 10.0" L x 6.0" W x 3.0" H and weight is 7.5 lbs.
More Information
Auto CPAP and Bi-Level CPAP Machines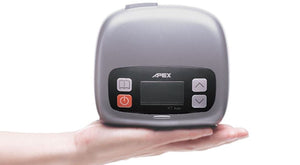 Apex Medical Travel Auto CPAP
More Information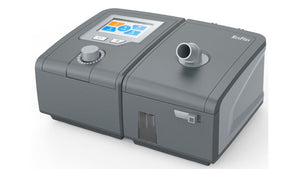 Beyond ResPlus Auto CPAP
More Information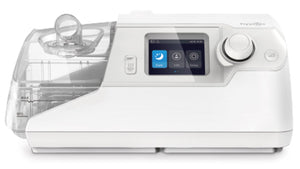 Hypnus Auto BiPap ST 730
More Information
CPAP/BPAP UNIVERSAL TRAVEL AND HOME UPS BACKUP BATTERIES
Peripheral Neuropathy and Pain Mangement - Targeted Therapies